MuniStrategies project featured in Novogradac Journal of Tax Credits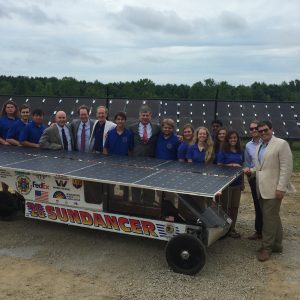 In the October edition of the Novogradac Journal of Tax Credits, the Silicon Ranch Houston project was featured for its innovative structure of incentives.
The article, written by Teresa Garcia, can be found at the following link.
Excerpt below:
Tax Credits Build Home-Grown Solar Farm
"We see Mississippi as a solar market with a lot of
potential, and part of that goes back to state and local
support," said Matt Beasley, Silicon Ranch's senior
vice president of business development. "We're
committed to Mississippi businesses."
For Silicon Ranch, the facility is an investment
in Mississippi's solar value chain. The Houston
project not only sourced its material and financing
locally, but it enabled the training of an emerging
local workforce. Silicon Ranch worked with its
construction contractor LightWave Solar to hire
about 75 workers, approximately half of whom were
locals. The strategy fits in with Silicon Ranch's model
for boosting economies: hiring and training local
workers for long-term careers in the solar industry.
"It's the right thing to do and typically, the more
efficient thing to do," said Beasley.

Although the Silicon Ranch project is the first
commercial solar facility in Houston, the community
was already well acquainted with the power of solar.
Houston is known nationally for its high school
solar race car team. Houston High School is a 15-
time winner of the national Solar Car Challenge, an
annual race for high school students who design,
engineer, build and race roadworthy solar cars.
Members of the race team attended the Silicon
Ranch project unveiling in June and will continue
to benefit from the learning opportunities provided
by Silicon Ranch for years to come. Part of Silicon
Ranch's community benefits agreement is to provide
educational programs and mentoring to Houston
High School students and local college students on
mechanical engineering, electrical engineering and
other areas that can help them prepare for careers in
renewable energy technology.