MAAS Aviation in Mobile begins aggressive expansion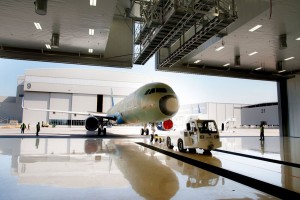 On February 22, MAAS Aviation in Mobile, Alabama, held a groundbreaking for a a twin bay aircraft painting facility. A global leader in the aircraft painting industry, MAAS has located their only domestic facility in Mobile at the Brookley Aeroplex in close proximity to the new Airbus manufacturing facility.
At full scale, the facility will employ 87 craftsmen. Dozens of employees, residents and local officials were on hand for the groundbreaking.
Here's just a sample of the news coverage from the event.
First U.S.-built Airbus A321 painted, ready for test runs
MAAS Aviation begins construction
Airbus supplier breaks ground Monday
MAAS to build $39M second Mobile Aeroplex paint facility targeting third-party MRO customers
MAAS Aviation teams for $39 million paint hangar project at Mobile Aeroplex
To learn more about the project, visit our impact page.