Winston Plywood in Louisville celebrates ribbon cutting and 300 new jobs
On April 5, 2017, hundreds gathered on a site that was three years before a slab of twisted metal and machinery to celebrate the grand opening of one of the largest plywood mills in North America.
This ambitious project was funded using a variety of incentives from FEMA, the MS Emergency Management Agency, the Appalachian Regional Commission, Tennessee Valley Authority, the City of Louisville, Winston County and the State of Mississippi. MuniStrategies provided $12MM of New Market Tax Credits for the project and partnered with US Bank as the investor.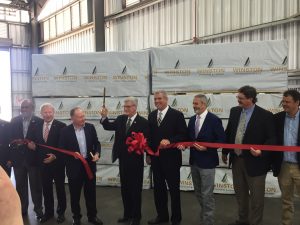 Company Press Release
Premier Plywood Mill in North America Officially Opened at Ribbon-Cutting Ceremony;Governor Phil Bryant, Mayor Will Hill Highlight Unique Partnership
Hundreds of New Jobs Created as Winston Plywood Helped Community Rebuild
Joined by federal, state and local leaders, company associates and members of the community, Winston Plywood & Veneer today hosted a ribbon-cutting ceremony at its new plywood mill in Louisville, Mississippi. The location was once home to a shuttered mill that was destroyed when an F4 tornado struck three years ago. Today, in its place stands a state-of-the-art plywood facility that employs over 300 associates and is expected to generate tens of millions in annual economic activity for the region.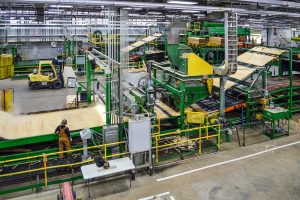 "Today is a great day for all of us who work at WP&V," said Winton Plywood & Veneer President Jon Pierce. "We could not be more thankful for the collaboration and support we've had from Mayor Hill, Governor Bryant, the Mississippi Development Authority and those across our community. Everyone has stood with us as we worked together to make this mill a reality."
"The grand opening of Winston Plywood & Veneer is a momentous occasion for this community and for our great State, showing what can be done when business partners with government at all levels to create jobs and spur economic growth," Gov. Bryant said. "I am thrilled to be back here, standing with these newly-hired workers and this company, to celebrate the official launch of this outstanding manufacturing business in Mississippi."
"When we broke ground here two years ago, in the aftermath of a devastating storm, we said we would stay the course until we delivered and opened the finest plywood mill in North America. I am very proud to say today that we have kept that commitment, and that the future for this business is bright," said Andrew Bursky, Chairman and Co-Founder of Atlas Holdings LLC, the parent company of New Wood Resources LLC. Winston Plywood & Veneer is an operating company of New Wood.
"This occasion is to celebrate hard work, partnerships, community, and most of all hope. Our community has experienced the great recession, plant closures, and a devastating natural disaster in recent years. Winston Plywood & Veneer's commitment after the storm forged a storybook partnership, giving hope to a community in need," said Louisville Mayor Will Hill. "I am eternally grateful for the cooperation with our partners and sincerely believe this project is a beautiful example of how public/private partnerships work in economic development. The synergy of Federal, State and local government working with the private sector has given a rebirth to plywood manufacturing in Louisville, Mississippi. I would also congratulate all the hard-working people of Winston Plywood & Veneer for making history in our community."
Winston Plywood & Veneer is well positioned for sustained success in the marketplace. The company's leadership team collectively brings nearly a century of direct industry experience and expertise; overall, the team includes 304 professionals, nearly two-thirds of whom are residents of the local community. Each associate has participated in extensive skills development training relevant to their job function and completed a comprehensive, mandatory workplace safety curriculum executed by WP&V. The safety and well-being of each team member is the primary pillar upon which the company is built.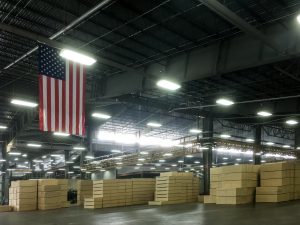 The first such plywood mill constructed in the United States in over two decades, the WP&V facility boasts 287,000 square feet and is over 765 feet in length — large enough to house five football fields. The company sells structural and industrial plywood and veneer, procuring its logs from sources all within sixty miles of the facility. The company's products are used for industrial applications, furniture and residential construction.
About Winston Plywood & Veneer
Winston Plywood & Veneer is an operating company of New Wood Resources LLC, an Atlas Holdings company. With over 300 associates, its new facility in Louisville, Mississippi is a state-of-the-art mill spanning nearly 300,000 square feet long and 765 feet in length. It is one of the most modern and efficient mills in North America. The company can be found on the web at www.winstonplywood.com.
Learn more about this project on our project impact page.
Media Coverage of the event
WTVA – New Winston Plywood & Veneer plant opens following 2014 tornado
WCBI – Winston Plywood & Veneer Ribbon Cutting
CLARION LEDGER – Plywood maker rebuilding, expanding in Louisville
MS BUSINESS JOURNAL – Winston Plywood & Veneer holds 'grand opening' in Louisville
MERIDIAN STAR – Winston Plywood & Veneer reopens in Louisville
NOVOGRADAC – Winston Plywood wins 2015 Operating Business QLICI of the Year Award