Coastal Growers project receives Honorable Mention for 2021 QLICI of the Year
MuniStrategies projects recognized for excellence for 6th time by Novogradac
MuniStrategies is proud to announce that its Coastal Growers project in Atmore, Alabama, has received Honorable Mention in the Non-Metro category for the 2021 Novogradac Journal of Tax Credits Community Development Qualified Low-Income Community Investment (QLICI) of the Year Awards.  The project will be recognized at the Novogradac 2021 New Markets Tax Credit Fall Conference Oct. 28-29 in Austin, Texas.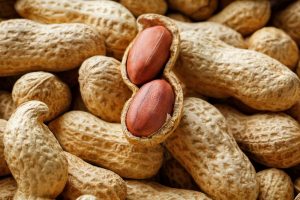 Coastal Growers, LLC is a $87 million, 475,000 square foot peanut shelling plant being constructed in Atmore, Alabama. The cooperative is owned by approximately 100 family farmers and will shell, store, and market peanuts to end users and will allow the local peanut farmers to capture substantial added processing value in their peanut crop by vertically integrating their operations, returning more revenue and profits to the farmers and the rural community. This plant increases farmers' profits by 30-35% per ton and will source peanuts within 200 miles of the Atmore facility in MS, AL, GA and FL. The plant will shell 200,000 tons of peanuts at full capacity and have the initial capacity to store 100,000 tons, with the capability to expand storage to 200,000 tons.
MuniStrategies placed NMTC allocation along with partner Community Development Entities UB Community Development, Rural Development Partners, Waveland and National Impact Fund.  Additionally, United Bank (UB) applied for and received a $40 million Business and Industry Loan Guarantee from USDA Rural Development to support the project financing.
The project will create 130 permanent jobs with training and career advancement opportunities in addition to 95 construction jobs.  Coastal Growers currently works with 100 regional farms with over 200 employees and $4.8 million in total wages.  Upon completion they anticipate working with 130 regional farms supporting almost $8 million of wages.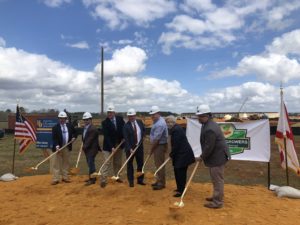 The City of Atmore, through its Industrial Development Board, has extended an abatement of non-educational ad-valorem taxes for 10 years, as well as an initial abatement on construction-related non-educational sales and use taxes on construction materials and equipment. The city provided 15 acres of property and the construction of a rail spur to service the facility as well as other projects in the area for a total cost of $2.5 million. Finally, the city donated 60 acres of land for construction of the facility.
Governor Kay Ivey said the project is set to create high paying employment opportunities in the Southwestern Alabama community while providing a co-op opportunity to 100 peanut products across the state.
"I'm thrilled for the people of Atmore, and the surrounding area, to see this facility is ready to begin taking shape," Governor Ivey said. "Our state has a storied tradition of peanut production, which provides an estimated $200 million to our economy.
Baldwin County farmer Mark Kaiser said the new plant will allow local farmers to capture more of the profit off of their crops by becoming vertically integrated.
"This facility will be owned by the farmers who use it, and they'll keep those profits themselves," says Kaiser who serves as the Alabama Peanut Producers Association vice president. "That's good for both the farmers and for the immediate area, because the money will just keep turning over locally."
This marks the 6th time that MuniStrategies projects have been recognized by Novogradac.  Prior recognitions include the Tippah County Hospital QLICI of the Year transaction in 2020; the Nemak USA project in Sylacauga, AL, in 2017; the Resinall investment in Hattiesburg, MS, in 2011, which was named Operating Business QLICI of the Year; the Alabama Aircraft Support investment in Enterprise, AL, that received an Honorable Mention for Operating Business QLICI of the Year in 2014; and the investment in Winston Plywood & Veneer in Louisville, MS, that received the 2015 Operating Business QLICI of the Year.
About MuniStrategies
MuniStrategies is a Community Development Entity (CDE) as recognized through the United States Department of Treasury to participate in New Markets Tax Credit (NMTC) financing and has deployed over $250 million in federal allocation authority over five rounds. More information about MuniStrategies is available at www.munistrategies.com.